2017
CONFIRMED! The "Paris Orchestra Challenge" has agreed to return for a final song to close the festival!  The Last Manchurian Shaman will close the 2017 festival officially at 10pm!
Please try our web app, to comment and upload photos: open any browser and type ethnografilm.info. Login with your Gmail or Email address and you are good to go. Developed by two high school girls: Sulmi and Jasmine (aka Sushi & Nugget)). Have fun❗
Our opening reception and final performance was unique in the history of film festivals! Everyone said it was the best ever!  Buswell & Nyberg's Paris Music Challenge – Shaun Buswell & Erik Nyberg arrived  from London & Gothenburg in Paris on 1st April, with no musicians and no music. In ten days they formed a 20 piece band made up entirely from musicians they met here in Paris, wrote an original set of music, premiered at Ethnografilm on April 11th!
After this year's festival, our 4rd Ethnografilm Africa was  held in June (Nairobi, Kenya), followed by Ethnografilm Asia in July (Trivandrum, Kerala). Later in the year 2017 festival selections are shown at our traveling festivals in Louisiana and Boston.
2016
 Ethnografilm2016  was held from 7pm March 29th until 11pm April 2nd, 2016
By tradition, our last film is the projectionist's choice: this year it was The Last Farm.
Ethnografilm 2016 Official Program
Tuesday 29 March  7pm Reception 
Music by Alex Stuart
Festival Launch Program: Wednesday, March 29th 8:00pm
Wes Shrum introducing special guests and Lisa Pasold as compere for the evening
Lisa Pasold: Welcome to 3nd annual Ethnografilm
Mathieu Denis: Welcome, International Social Science Council
Matthew Harsh: Welcome, Society for Social Studies of Science
Susan Arnold
: "Art for Film" program
Greg Scott: Journal of Video Ethnography
Lighting of Candles to launch the festival
Screening of Geronimo (4 min)
Adrian Strong: Director, Bitter Roots
Screening of Bitter Roots (67 min)
2015
Daily Schedule 2015                        Full Program Download
Closing: Projectionist's Choice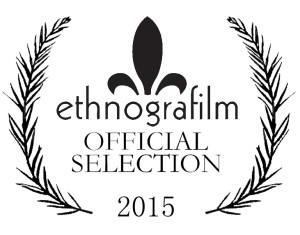 2014 Interview with the Director
2014
Review of Ethnografilm 2014   Thanks a million to Lisa Pasold for her outstanding 2014 roundup!
Highlights of Ethnografilm 2014
World of Ethnografilm  Luke Driskell's "rough guide" to Ethnografilm 2014