The 3rd annual Ethnografilm Africa was held earlier this month in Nairobi.
On the 6th of July, the 3rd annual Ethografilm Asia festival will be held in Kerala.
What is the Ethografilm festival?  An interview with the Director during the 2016 festival.
Ethnografilm 2017 will be held from 7pm April 11th until 11pm April 15th.
Submissions for the festival will open in June 2016.
By tradition, our last film is the projectionist's choice!
Ethnografilm 2016 Official Program
After the last session of Ethnografilm over 30 directors retired to the nearby Autour du Moulin to continue the discussion!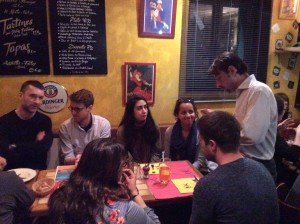 Associated with the festival is the Journal of Video Ethnography http://videoethno.com (Gregory Scott, Editor)
April in Paris! Ethnografilm features Q&A after each session and free tours of the historic Montmartre district.