Film Screenings 11-15 April 2017
Preliminary Schedule below.
Films will run from 11am on April 12th until midnight on April 15th, 2017.
After last year's festival, our 3rd Ethnografilm Africa was held in June (Nairobi, Kenya), followed by the 3rd Ethnografilm Asia in July (Trivandrum, Kerala) and Ethnografilm Europe (Barcelona).  2017 festival selections will be shown at our traveling festival in India, Kenya, Louisiana, and Boston.
Our opening reception, on the evening of the 11th, will be the best ever!  Buswell & Nyberg's Paris Music Challenge – Shaun Buswell & Erik Nyberg will be coming from London & Gothenburg to Paris on 1st April, with no musicians and no music. In ten days, speaking only French, they aim to form a 10 piece band made up entirely from musicians they bump into randomly, and then write an original set of music to be performed by this collection of folks who were previously unknown to each other — at our reception. Oh, and they can't speak French! Pretty wild. 
Preliminary Schedule
Wednesday 12 April
11am
Cicada Music in Ohio
Chosen People
Folk-Cinema Vayana
doinggood
 Let's Get the Rhythm
1:30pm
Rest Stop
Children of the Kalahari
Queen
Rebuilding Hope
4pm
Nobody Home
Unity: Dress-scapes of Accra
Gyalmu's House
Civil Rights Stories
6:30pm
Dogs of Democracy
Before the Wave
White Mountain
Ushering in the Spirit
Vishneva, Belarus Soviet Union Poland
9pm
The Possibility of Spirits
Still Hunters and Gatherers
Dish Life
RAMI
Altimir

The Camp
Thursday 13 April
11am
Nicobar, a long way…
AKA
1:30pm
Agents of Change
Extended Family
The Devil and the Holy Water
Measure Up
4pm
Zona Intangible
Jerusalem Voices
Huan Nuo Yuan
Banh Bao Bikes
6:30pm
Struggle and Hope
The Song Collector
9pm
Shepherds in the Cave
Chernobyl-Fukushima: Living With the Legacy
Ichiro and the Wave
Friday 14 April
11am
Aloha From Lavaland
Shahyad
Natural Selection
1:30pm
The Land Beneath Our Feet
Small People. Big Trees
First and Last
4pm
The Block
River Nomads
Undercover in Underwear
6:30pm
Ocumicho sauvé par le diable (eng)
Call for Grace
La voix des Tatuyos
 Siren Song: Women Singers in Pakistan
9pm
Lost Manchurian Shamans
The Dybbuk: A Tale of Wandering Souls
Saturday 15 April
11am
A Bold Peace
Marcel Taille, Herdsman and Dairyman
Facing the Mountain
The Bolshoi Maestro
1:30pm
Not Black Enough
I'm Not Leaving Eldon
Kanu Belong Karen
4pm
Data Mining the Deceased
Bounce
The Stag's Mirror
Entretejido
Cobblestone Stories
6:30pm
The Flock
Corner Chronicles
The Crooked Tune
Mile
Rising
Honk: A Festival of Activist Street Bands
Batrachian's Ballad
9pm
Meissa
The Drover's Boy
The Offering
The Sad Monk
Agen
Dusk
What is the Ethografilm festival?  An interview with the Director during the 2016 festival.
By tradition, our last film is always the projectionist's choice!
Ethnografilm 2016 Official Program
After the last session of Ethnografilm over 30 directors retired to the nearby Autour du Moulin to continue the discussion!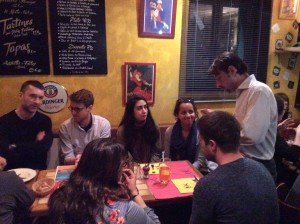 Associated with the festival is the Journal of Video Ethnography http://videoethno.com (Gregory Scott, Editor)
April in Paris! Ethnografilm features Q&A after each session and free tours of the historic Montmartre district.