Submissions have closed for the 4th festival. Filmmakers will be notified by the first week of February.
Our opening reception, on the evening of the 11th, will be the best ever!  Buswell & Nyberg's Paris Music Challenge – Shaun Buswell & Erik Nyberg will be coming from London & Gothenburg to Paris on 1st April, with no musicians and no music. In ten days, speaking only French, they aim to form a 10 piece band made up entirely from musicians they bump into randomly, and then write an original set of music to be performed by this collection of folks who were previously unknown to each other — at our reception. Oh, and they can't speak French! Pretty wild. 
Film Screenings 11-15 April 2017
Films will run from 11am on April 12th until midnight on April 15th, 2017.
After last year's festival, our 3rd Ethnografilm Africa was held in June (Nairobi, Kenya), followed by the 3rd Ethnografilm Asia in July (Trivandrum, Kerala) and Ethnografilm Europe (Barcelona).  2017 festival selections will be shown at our traveling festival in India, Kenya, Louisiana, and Boston.
What is the Ethografilm festival?  An interview with the Director during the 2016 festival.
By tradition, our last film is always the projectionist's choice!
Ethnografilm 2016 Official Program
After the last session of Ethnografilm over 30 directors retired to the nearby Autour du Moulin to continue the discussion!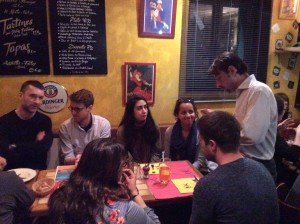 Associated with the festival is the Journal of Video Ethnography http://videoethno.com (Gregory Scott, Editor)
April in Paris! Ethnografilm features Q&A after each session and free tours of the historic Montmartre district.