DAILY SCHEDULE BELOW
CONFIRMED! The "Paris Orchestra Challenge" has agreed to return for a final song to close the festival!  The Last Manchurian Shaman will close the 2017 festival officially at 10pm!
Please try our web app, to comment and upload photos: open any browser and type ethnografilm.info. Login with your Gmail or Email address and you are good to go. Developed by two high school girls: Sulmi and Jasmine (aka Sushi & Nugget)). Have fun❗
Our opening reception and final performance was unique in the history of film festivals! Everyone said it was the best ever!  Buswell & Nyberg's Paris Music Challenge – Shaun Buswell & Erik Nyberg arrived  from London & Gothenburg in Paris on 1st April, with no musicians and no music. In ten days they formed a 20 piece band made up entirely from musicians they met here in Paris, wrote an original set of music, premiered at Ethnografilm on April 11th!
After this year's festival, our 4rd Ethnografilm Africa will be held in June (Nairobi, Kenya), followed by Ethnografilm Asia in July (Trivandrum, Kerala). Later in the year 2017 festival selections will be shown at our traveling festival in Louisiana and Boston.
What is the Ethografilm festival?  An interview with the Director during the 2016 festival.
By tradition, our last film is always the projectionist's choice!
Ethnografilm 2016 Official Program
After the last session of Ethnografilm over 40 directors retired to the nearby Autour du Moulin to continue the discussion!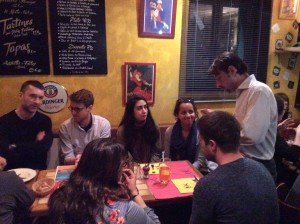 Associated with the festival is the Journal of Video Ethnography http://videoethno.com (Gregory Scott, Editor)
April in Paris! Ethnografilm features Q&A after each session and free tours of the historic Montmartre district.