Late DEADLINE FOR SUBMISSIONS December 1, 2015.
The dates of the 2016 festival are March 29 through April 3rd (opening reception March 28th, Tuesday evening).
All non-fiction films (earliest release date Jan. 2010) are eligible for the 2016 festival.
Ethnografilms are not simply about far away people and places.  We particularly solicit movies about modern life  as well as remote corners of the planet!
Vimeo links are accepted by both Withoutabox and FilmFreeway.  No DVDs please.
After the last session of Ethnografilm 2015, over 30 directors retired to the nearby Autour du Moulin to continue the discussion!  Submissions for the 2016 edition of Ethnografilm are now open.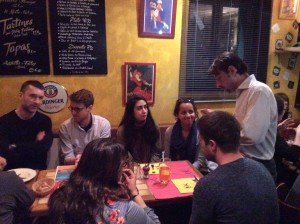 Complete Program Ethnografilm 2015
Associated with the festival is the Journal of Video Ethnography http://videoethno.com (Gregory Scott, Editor)
April in Paris! Ethnografilm features Q&A after each session and free tours of the historic Montmartre district.  Over 90% of the directors whose films are selected will be in attendance.
2014 Interview with the Director