2019 Poster  Downloadable Program
Saturday 20 April 2019
11am Gushegu Exile
SINGAPORE
el árbol de la vida
Dancing Manilenyos
Traditional Aboriginal Art-Fact or Fiction?
Madagasikara
1:30pm The Battle of Jerash
This Damn Town
In the Year of the Dog
The Revolt in Ruins
Beyond Climate
The Last Bootmaker of Sic, Transylvania
4pm Finding the Virgo
Ladies Cheap Cocktails
Authenticity
We Are Blood
Totalite
Sauce is Very Peaceful
Our Family Album
Hommage
Impact
counter/balance
6:30pm
Bloody Phanek
The Flight of the Condor
In Search of a Bororo Mr.Right
Angelina Gomez Lopez
9pm After Prayers
SUBMISSIONS For 2020 will open in early June.
Hot off the press! We are delighted to announce a new edition of our Traveling Ethnografilm program, 27 September 2019, to be located in the UN Buffer Zone in Cyprus! The venue is to be the Home for Cooperation (H4C).
If you want to get a sense of what we are like before you submit, download the full program for any of the six Paris festivals.  For example, Ethnografilm 2018
Note to Filmmakers–we would love to see your films from anywhere on  Planet Earth, not just premodern societies and far-away places. If you have both "feature" and "broadcast" (under one hour) length, please submit the broadcast version for a higher likelihood of acceptance.
Eligibility for 2020: All non-fiction films
 (films with release date after Jan. 2014)
By tradition, our last film is always the projectionist's choice! News! Ethnografilm has established a new site in the new world at the New Orleans Jazz Museum! In October 2017 the first annual Ethnografilm New Orleans was held. After the last session of Ethnografilm over 40 directors retired to the nearby Autour du Moulin to continue the discussion!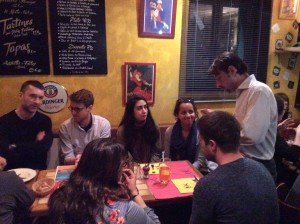 Associated with the festival is the Journal of Video Ethnography http://videoethno.com (Gregory Scott, Editor) April in Paris! Ethnografilm features Q&A after each session and free tours of the historic Montmartre district.